Registration for the 43rd Covenant Awards Weekend is now open
2023-09-12 09:20:47 by Jaylene Johnson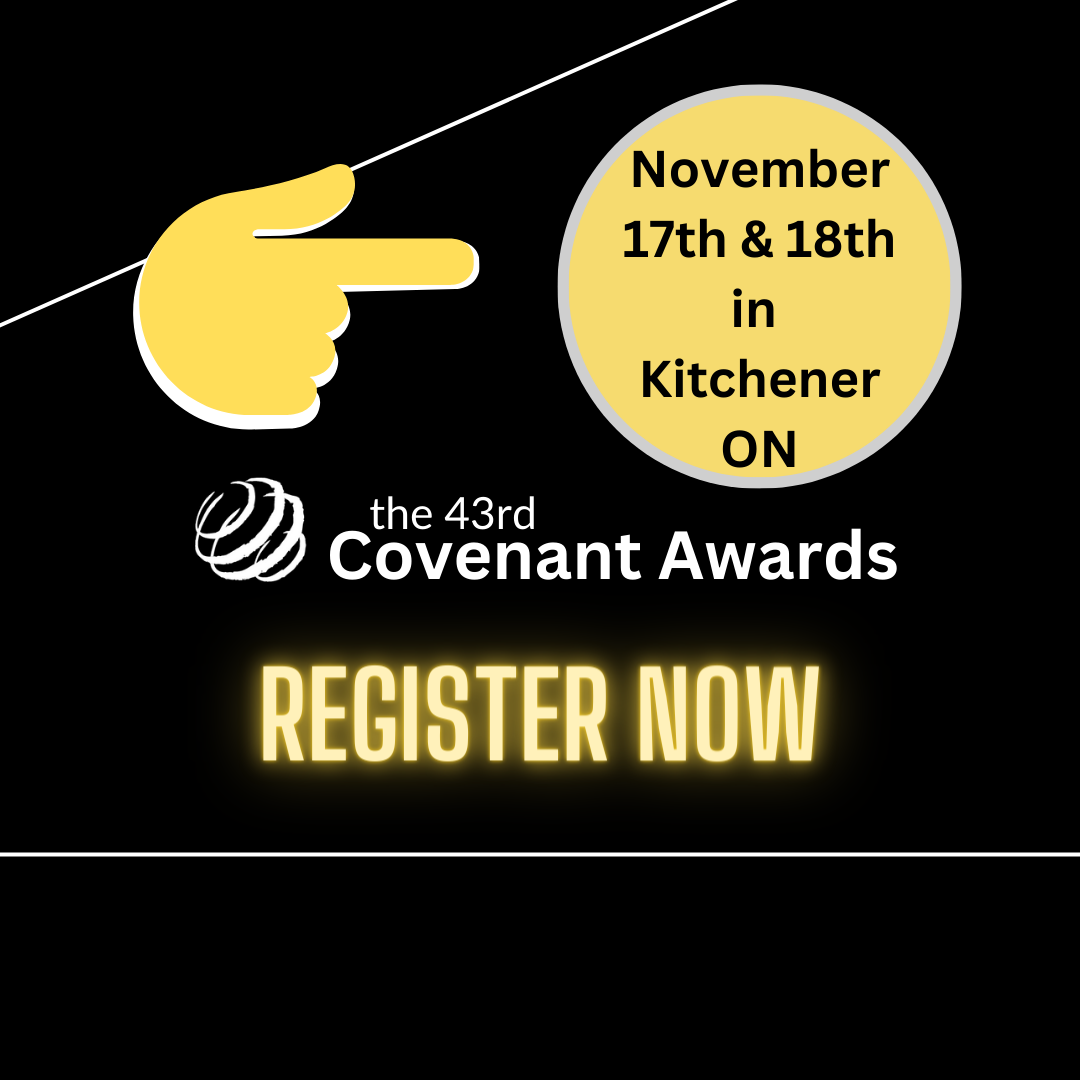 It's time to register for the 43rd Covenant Awards weekend, Friday, November 17th, and Saturday, November 18th, in Kitchener, Ontario...the registration link is found at the end of this message.
So, what can you expect at the 43rd Covenant Awards?
1) A welcoming church - Bethany Evangelical Missionary Church has opened its doors to host the GMA Canada community for this event, and have a small army of volunteers set to welcome us all. Thanks to big thanks to the church board, Kevin Pauls, Pastor Anthony Does, Darlene Schnider, and the many other key folks involved!
2) A weekend of connecting - There will be lots of opportunities to connect with one another - to network, to encourage - including a Saturday AM brunch and two after parties catered by the amazing Chef D!
3) Two evenings of celebrating, including live performances and awards.
4) Workshops Friday and Saturday, starting with a Gospel Music workshop led by Darren Hamilton (Waterloo Regional Mass Choir) on Friday at 1:30PM. Pre-registration is required for this workshop (send an email to jaylene@gmacanada.ca indicating your plan to attend), and all who participate will be invited to sing with the choir at Saturday night's Covenant Awards...How cool is that?!
Saturday afternoon's workshops will include a variety of topics to build us up, and include worshipping together; a word from Paster Anthony; a thoughtful, timely, and interactive presentation by Jay Woods and Jon Corbin, discussing the intersectionality of creative work, faith, mental health, and community; and more.
An early-bird rate is ineffect until October 6th. Individual tickets for the two evenings of awards and live music will go on sale beginning in November, as space is available. we want to make space for all of the weekend's delegates before opening seats to the general public.
Registration packages will be available as early as noon on Friday, November 17th, in the church foyer.
Some of you may be traveling a good distance and need a hotel. Limited rooms have been made available under a group rate at the Crowne Plaza KW Hotel in downtown Kitchener. You can access this by clicking HERE. The following is info from the hotel regarding these reservations:
All guests are responsible for their own charges.
For check-in the Guest must have his valid ID (passport or driver's licence) and present it at the reception on arrival.
All Prices are in Canadian Dollars per room per night and for the mentioned dates on Single / Double occupancy basis. Extra accommodation in room – additional cost of C$15 per night.
Breakfast is not included in the room rate. It is available daily at the price of $20 in the Hotel restaurant.
Two-leveled parking is available on arrival at the price of $12 per night
4% Municipal Accommodation Tax (MAT) & HST – 13% applicable (The hotel assumes no responsibility for a change in tax rate).
Hotel requires an incidentals deposit of C$100 per room made with Guests' CC on arrival.
Hotel check-in time is 3:00 pm. Check-out time is 11:00 am.
Guest room allotments are subject to availability at time of booking. While the hotel will make every effort to accommodate your reservation requirements; we will assign room types according to availability on that day.
Complimentary Wi-Fi in guest rooms and meeting space.
Group rate was offered based on minimum of 10 rooms per night. If the group will pick less than 10 rooms University's Corporate Rate will be applicable instead.
Individual Cancellation Policy: Seven days before the group's check-in date according to the check-in time.
We look forward to seeing you! REGISTER NOW!